The Ministry Center Blog: Ignite Northern City Prayer Walk
Thank you to all you who have sown into this 2021 Prayer Walk either through financial gifts, prayer, or prophetic words of encouragement and affirmation.
May Update
May was my first leg of this new assignment. I was able to bless and pray for the cities of Bradford, Erie and Cleveland, Ohio. I connected with godly men, women, pastors, worshippers, intercessors, the young and the old in amazing and unique ways. In each city I was able to connect with two churches: Open Arms and the Salvation Army in Bradford; Field of Dreams and Real Life Assembly of God in Erie; and Journey Church and Church on the North Coast in Cleveland, Ohio.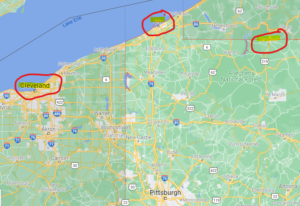 Some highlights from the two weeks:
God emphasized building relationships

The release of Shepherd's staffs in each city was pure, strong and anointed.

Even though the weather was hot, the many hours of worship, praise, prayer and intercession and fellowship with God brought me much joy.

God sent me to these cities because there is a cry and a hunger from the remnant for revival and harvest.

I experienced and saw a new level of faith in many of the believers in these cities.
It is becoming more evident to me that our Lord Jesus Christ is preparing an Army of lovers that will obey Him, worship, and work together and persevere until we fulfill the will of God on Earth, walk in true humility, and trust God in and for everything that He wills. I saw a resolve and diligence that I know comes from walking close to Jesus and delighting and desiring to obey and please Him.
We have a clever, evil, wicked enemy and we must know his wiles, devices, tricks, schemes, and plans so we can overcome daily and be more than conquerors through Him that loves us. God blessed me with affirming signs as I prayed and sought Him for my family and the region I was praying for.
I believe one of the highlights on this first leg was the sighting of EAGLES. Without a doubt Jesus planned this as I began in Bradford and Erie because the prophetic anointing was and is being released over this nation. These two cities will carry a strong faith to stir up the church so she can be awakened and mount up with wings like Eagles and soar in the Spirit and see and perceive the will of God.
We love you and thanks again for journeying with me. My friend, Dave Turner, will be traveling with me in June, July and August.
June Update
GREETINGS,
Calvin and I had a very full and eventful two weeks in June. We started in Toledo, OH then travelled to the Michigan cities of Detroit, Lansing (state capital) and Kalamazoo. We also attended a powerful intercessory gathering in Erie, PA on our way back home. I did most of the picture taking and journaling (approx. 13 pages, single spaced) on this trip.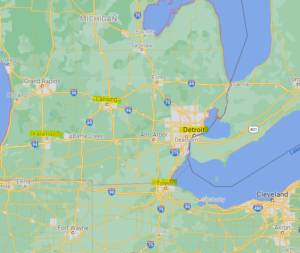 KEY POINTS IN JUNE
Themes: divine timing and divine connections. This kept happening over and over. We stayed at three randomly selected Air B&B places and all three owners were powerful and passionate Christians. These folks invited us on prayer walks, to their church services as well as to their home for dinner. Add to these connections, interesting and impacting interactions we had on the street.
In my last update I mentioned the divine connection with a couple on the Lancaster, PA Youth With A Mission (YWAM) base who setup our connection in Detroit with a lady named Loretta. We had a wonderful time interacting with her while there and she in turn continued to provide connections for us going forward. First it was with leaders of another YWAM base in western Michigan near Kalamazoo. This new base YWAM base will be used to support burnt out pastors and missionaries as well as marriages that need support and healing. They hope to open their doors for ministry this fall. Loretta also provided us with contact information for the YWAM base director in the north end of Chicago. He will have a group of 20 high school students on the base during the time we are there and would like for us to speak to them about our prayer walk. He provided for us a contact in the south end of Chicago as well. We are in the process of reaching out to him.
I welcome any thoughts or feedback you would have for our prayer walk. Also let us know about contacts you think might be helpful for the cities we will visit (see schedule in first email or I can resend).
Blessings,
David
July Update

GREETINGS,
Calvin and I had another very full and eventful two weeks in July. On the way to Chicago we went by way of Toledo, OH to hand off a beautiful, custom-made shepherd's staff to a contact we made through the B&B we stayed at in Toledo in June. Calvin has handed out hundreds of custom-made shepard's staffs through the years as a prophetic act of validating and honoring righteous, spiritual authority. He has made one staff for most of the cities we are visiting. We had already handed off a staff in June in Toledo to a local pastor but we both felt this woman deserved one as well. Then we went north to Detroit to again hand off a second Detroit shepherd's staff (Loretta, the YWAM base director got the first one) to the B&B owner we met there who greatly impressed us with his spiritual passion and neighborhood improvement leadership. After a lovely overnight stay with the Detroit YWAM base leader, Loretta, we headed to Chicago for our first week of prayer walking. While there we took a day trip up north to walk and pray for Kenosha, WI (just inside the Wisconsin border- see map below). Our second week we relocated to Milwaukee, WI and finished up our spiritual engagement there. Our last evening there we had the fun of watching the final game of the NBA championship where the Milwaukee Bucks won their first championship in 50 years. Again, I took a lot of pictures and added another 11 pages of journaling notes trying to capture all the amazing events and divine appointments we made.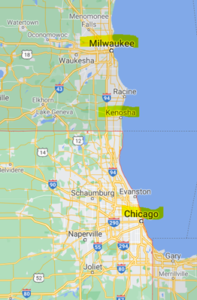 KEY POINTS IN JULY
Kenosha: Getting a sense of cleansing the land and repenting of historical issues that may have contributed to the surprising outbreak of violence last August. We walked the places that were torn up by riots. We also prayed against any further violence and strife surrounding an upcoming court decision related to murders committed during these riots.
Chicago: A key day there was Wednesday of the first week where Calvin and I were walking separately with the intention of meeting in downtown Chicago. Together we would then walk to city hall and pray for the city leadership. We both completed our separate walks that morning, but it took over 3 hours for us to connect downtown. The confusion involved was impressive. God gave us both grace to not get offended at each other (thank you for your prayers) and eventually we were able to get together and complete our mission for that day. Calvin sensed our job was complete and we walked back the car at a nearby parking garage. We did not get to our B&B until about 6pm. We were both exhausted and sore from our very long day. Interesting that earlier that day Calvin saw shirt as he walked toward downtown that said, "Not Today Satan". He wondered who would print that on a shirt. Good question
Milwaukee: Calvin had a sense we had powerful authority to address issues in this city. We sensed issues needing to be addressed impacting governmental leaders in that city and that God would get to the roots of these issues. We had the joy of having Caleb from Gateway House of Prayer join us for that day of walking and praying.

We had no contacts in Milwaukee when we got there so not sure who to hand off the Milwaukee staff to. So Calvin asks our B&B owner if she knows anyone. "Not really but talk to the owner of a nearby coffee shop who I don't really know". We go to the coffee shop and talk to the owner, and he directs us to a nearby Assembly of God church. We show up over an hour before the church opens in an empty parking lot, see a man exit the building and ask if he knows anyone there. Turns out he is the pastor of outreach and explains in detail EXACTLY our heart for impacting the culture in a city. We felt this was the man to hand the staff to along with the senior pastor (Marcus) of this impressive church. One more thing, this pastor gives us the name of what appears to be an important AG contact in Minneapolis. This contact has now given us several more names to contact there as well. Divine appointments, divine timing….

There is not enough time to tell you about the many contacts we met along the way that made our "top 10" list of significant encounters.
Blessings,
David
August Update
GREETINGS,
Calvin and I had another very full and eventful two weeks in August. Each month God fills these times with divine appointments with very impressive and passionate Christians as well memorable interactions with people we intersect with on the street. We started this month driving two days to Madison, Wisconsin. There we connected with another YWAM base director (again, thanks to Loretta in Detroit) in the north end of the city. We travelled to La Crosse, WI prayer walking this lovely border town for two days before crossing the Mississippi river into Minnesota spending our last several days in Minneapolis, St Paul area. Here we met and interacted with several folks that encouraged us, prayed with us and joined us in prayer walking. Again, I took a lot of pictures and added another 25 pages of journaling notes trying to capture all the amazing events and divine appointments we made.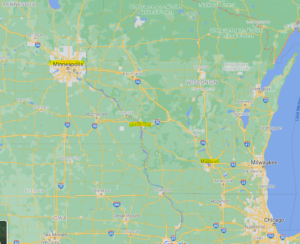 KEY POINTS IN AUGUST (just SOME of them!)
Madison, WI:
Our first day we went to the YWAM base and connected with Wayne who invites us into his office and shares his spiritual journey that brought him and his eight children to this city. Seeing this man carries God's heart for this city we present him with the staff for Madison as his phone alarm goes off at 10:02. He explains that this is his reminder from Luke 10:02 to pray to the "Lord of the harvest to send out laborers into the harvest field". How appropriate! He then spends the rest of the morning driving us around Madison sharing insights and perspectives about this very spiritually oppressed city. He also provides meals and opportunities to interact with several of his staff over the next two days. One resource he presented us was a book published in 2005 providing the results of a two-year project of dozens of Christians prayer walking every street in Madison. They compiled spiritual feedback, insights, and prayer suggestions for this whole metropolitan area. Amazing resource to have documented the impressive efforts of dozens of fellow believers who have a passion for their location. Also, it's a reminder that what Calvin and I are doing simply builds on what many others have already done.

Wed AM just before leaving for La Crosse we meet again with Wayne who is meeting a person named Darnell coming from Milwaukee. He has not met this man before so is curious as to why he is coming. It turns out Darnell is a passionate intercessor leading a prayer movement in Milwaukee. He also "just happened" to be the youth pastor at Parklawn Assembly of God which is where Calvin and I handed off the Milwaukee staff the previous month. How appropriate that the 10:02 alarm goes off when praying for him.
La Crosse, WI
I had a strong sense of the Spirit's presence as I walked along the Mississippi waterfront on the second day. In some way I sense this city is a spiritual gateway heading westward. That same day Calvin found himself singing as he walked. He does this when he is aware of a breakthrough. My impression is this had a connection with the prayers of intercession in Harrisburg a few weeks earlier that ended with collective awareness that things had been unlocked in the spiritual realm.
Minneapolis/St Paul, Minn
On Monday while Calvin and I were waiting for a pastor to show up at a downtown church we made an unexpected connection with another person arriving at his office for the first time in four months. It turns out this man has a passionate heart for advancing God's kingdom into a virtually unreached group of 100,000 Somalians (east African country; largest concentration in the US) living in Minneapolis. He shared that Christian efforts have not made much headway into this largely Muslim community and yet God has provided at least one creative inroad for he and his wife. They do foster care and they have been blessed with three foster Somali children who are now living with them. He is not aware of any other family in Minnesota getting Somali children through the foster care system because the Somali community typically takes care of their own. The first Somali child they were given was a girl just a few months old with a severe heart condition and not expected to live. She is now four years old and still with them. Amazing story! When he and his family walk through Somali areas now, they (he and his wife who are Caucasian) are addressed as "family" because of their children. He walked us around the nearby Somali neighborhoods and Calvin made plans to give him a staff. Sensed that God used our arrival as prophetic picture for him. I sensed that God would send him unexpected resources to bring encouragement and support to him when he needs it. That was primarily why he came to his office when he did. He and his wife were praying about challenges they were facing the previous night and he came to his office that morning to pray. And there we were…..

That same afternoon we went to the George Floyd memorial a few miles away that was erected at the location where he died May of 2020 which touched off demonstrations and riots across the country. There we met a woman who identified herself as regular visitor at this memorial location. She then introduced us to a person who knew George Floyd (Jane, not her real name) and happened to be across the street. We talked with both of them for several minutes and prayed with them. During our interaction with them we witnessed an extremely agitated, angry black man wielding two long knives coming out of the store next to us shouting and cursing people around him out in the street. Then we watched as several of the "agape force" surround and gradually defused this very dangerous incident. Jane was describing this as it took place. These agape force men, mostly black and many former gang members, take on role of helping to keep things under control. Sure enough, they surrounded this man and helped settle him down. As Calvin and I left we both sensed they should give these two ladies the staff for Minneapolis. We returned two days later and handed the shepherd's staff to our initial contact and said it was for Jane as well (she would be there later that day). She received it with tears and seemed to genuinely "get it" as Calvin explained its meaning and purpose to her. As I was reflecting on the handing off of this staff to these ladies I had an image of a throng of black people. The ones on the outside edge were filled with hate and anger. These were the ones that typically made the news headlines. The much larger group in the center was filled with people with genuine hurts and concern for true justice. These were people with good hearts. I believe God wanted to insert His authority into this flock of "sheep without a shepherd" who are often being dominated by the wolves.

On Thursday afternoon I found a puzzle piece on the ground (which is rare for me). Sensed a map of the entire US and God showing us that we were inserting one puzzle piece in a much larger puzzle that God was putting together. The next morning, I found another puzzle piece.
Blessings
David
September Update
Hello friends-
Attached you will find the summary from the September leg of the prayer walk, written by Steph who accompanied Calvin. Know that we appreciate all of you who have given financially and through prayers and encouragement to make this walk possible. It has been a challenging year on many levels, but we knew that God wanted to cover the northern tier of our country in prayer and intercession and so we continued to move forward in faith. And God did some amazing things, although much of Calvin's ministry is planting seeds in the spirit. Even though we may not see "immediate results" from his labor of love we trust God will water and bring the increase in His divine plan.
Please continue to keep us in your prayers as we finish this assignment well and enter the next season that God has for us. A special thank you to David Turner from Newport Church who faithfully accompanied Calvin 4 out of the 6 months and served Calvin well.
Watch for our final prayer walk summary and end of year wrap up coming soon. If you would like to hear more details about Calvin's prayer walk this year, please feel free to contact us- there is always so much we don't have room to include in our updates.
Blessings to you and yours as we serve the Lord together!
Calvin and Steph
——————————————————————————

IGNITE PRAYER WALK
LEG 5 ~ North Dakota and Montana
Sept. 8-22, 2021
September 8-
We began our journey at Harrisburg Int'l Airport. Our plane had some mechanical problems and so we took off an hour behind schedule. We were due to arrive in Charlotte, NC at 1:15 PM and our connecting flight was scheduled to leave at 1:15. The pilot said he would make up time in the air and he sure did! We landed in Charlotte at 12:30 at the terminal on the other side of the airport. 15 minutes of jogging across the airport found us at our departure gate as the passengers were boarding. Ten minutes later we were seated on the 737 bound for Minneapolis and trying to catch our breath!
Some new friends, George and Cheryl, 40-year missionaries to Alaska, met us at the busy airport and took us back to where they had parked Calvin's car in an underground garage, protected from the elements over the past 2 ½ weeks. What a precious couple who served us in such a tangible way.
After a quick stop for a few groceries, we made our way to our first hotel in Maple Grove, MN. We found a Chick-fil-a and enjoyed a late supper and then an early lights out after a 16-hour travel day and a quick adjustment to Central Time.
September 9-
Calvin wanted to reconnect with Paul who runs a ministry outreach to a large Somalian population in Minneapolis. He and a group of 35 others spend significant time in prayer and outreach as these Muslims have no Christian Church presence within their population. He passionately shared his heart for this people group and explained the Disciple Making Movement, an evangelistic model that has seen miraculous results around the world. He and his wife have adopted 3 Somalian children and are fostering 2 others. He prayed a blessing over us before we left Minneapolis and drive onto our first destination, Fargo, North Dakota.
We arrived in Fargo late afternoon and quickly settled into our hotel room. Calvin walked for about an hour getting a quick feel for this up-and-coming area. After dinner, we spent some time pouring over the downtown Fargo map and plotting where he would spend his first full day of prayer walking in the city.
September 10-
Calvin walked about 15 miles in the downtown area today – winding through the many dead-end streets of the city. He saw very few churches in Fargo and those he did see were traditional denominational churches. Four college campuses call Fargo their home: North Dakota State, Concordia, a satellite of Minnesota State and NW Technical College. Numerous breweries and coffee shops pepper the city streets and there are lots of young people wherever you go.
September 11-
This year was the 20th anniversary of 9/11 and every year we take some time to remember that infamous day by recalling our reactions to the fateful event as well as watching a documentary on TV. Calvin spent the morning prayer walking in Fargo in the downtown area and along the Red River. After packing up the car, I met him, and we enjoyed a stroll through the Saturday morning Red River Market and had lunch by the Wildflower Garden.
After a 3-hour car ride we arrived in Bismarck, the capitol of North Dakota. As I searched for a church body to fellowship with Sunday morning, we realized there was much more of a church presence in this city. After checking in at our hotel we took a quick scouting drive around the city and ended up along the Missouri River. Lewis and Clark journeyed along the river in both 1804 and 1806 as they made their famous trek plotting a western water route from St. Louis to the Pacific Ocean. We ended our day watching a new documentary about 9/11 and praying that God would lead us Sunday morning to the body of believers who were destined to receive the ND shepherd's staff.
September 12-
After much prayer and discussion, we decided to attend New Song Church, a Four-Square church located close to our hotel in Bismarck. Calvin walked there in time to attend their first service at 9 AM. This church was birthed in the 1980's and is still going strong with an intentional outreach to the greater Bismarck area. Calvin was received well, and the shepherd's staff was the center of much conversation. I attended the second service, and it was there that the staff was presented after Calvin shared for a few minutes about our Ignite mission. Interestingly, the Pastor had been challenged the week before while attending a wedding in Big Sky, MT. There another Pastor had challenged him by saying, "I think you're the type of Pastor that if God brought someone into your service on a Sunday morning, you would just change the service on a moment's notice." Low and behold, Calvin and I showed up the following week with the shepherd's staff in tow and yes, he was quick to receive us and to allow Calvin to present the ND Shepherd's Staff. "God set me up!" he exclaimed with a laugh. We felt right at home and made many new friends there.
September 13-
After a short time of prayer walking in the morning, Calvin was able to help a man who had a flat tire in front of our hotel. We then packed up the car and started our 6+ hour to Billings, MT. After driving through some initial rain, we drove out of the weather with the beautiful western sky as our backdrop. We made a quick stop at the Theodore Roosevelt National Park where we enjoyed the painted canyon spread out before us like a divine canvas, sprinkled with God's handiwork.
September 14-
Calvin began his prayer walk of Billings early in the morning and was able to spend 7 hours traversing this western city of 109,000. While Calvin was prayer walking the city, he met Pastor Caleb from Word of Life Church. He shared his vision for the walk and prayed with him for an outpouring in the city.
September 15-16-
Calvin continued to prayer walk the eastern, western and northern parts of the city. The southern section was below a large train transfer station and was difficult to get to and walk. That day, while I (Steph) was at a local store, a man walked out with an armful of merchandise and was not confronted or stopped. It was a shocking scene to watch such lawlessness. In the afternoon 2 local police showed up at our hotel but we never did find out what was behind that call. We had been warned that Billings is known for its crime, so we were prepared for that aspect of our stay there.
September 17-
We left Friday morning with much anticipation as we drove southwest to Big Sky, MT. After arriving around 1:30, we settled into the apartment where we were staying, and Calvin was able to begin his prayer walking around town for the rest of the afternoon. What a joy to reunite with our oldest son, Nielsen, who has lived here for 5 years. We spent the evening eating at a lovely BBQ restaurant down by the Gallatin River and catching up on life.
September 18-
Today Calvin spent the morning prayer walking Big Sky and walked the Ousel Trail up to Ousel Falls. I (Steph) spent the morning with Nielsen walking around this resort town that is enjoying a break from its busy summer season. Beginning in November the winter crowd will descend on this mountain town to enjoy the excellent skiing and snow boarding on Lone Mountain which stands at over 11,000 feet. As the western winds kicked up a cold front we hiked Porcupine Trail in the late afternoon and watched the sun slowly begin to slip behind the Spanish Peaks. Our evening was spent watching the Penn State game and enjoying pizza with Nielsen.
September 19-
We woke up to rain, although the peaks of the surrounding mountains were showing off their second white caps of the season. We drove up to Lone Mountain and stood in awe at the shear size and scope of the famous mountain. In the winter people travel there from around the country to enjoy some of the best ski conditions in the lower 48 states. Nielsen's church meets at 4 PM every Sunday so we attended with him and met many of his church friends. After the service Calvin was able to share some of his prayer walking stories with some of the young adults. They have a hunger to know God more fully as they walk out their faith in a very affluent and independent area of the country.
September 20-
After making breakfast for Nielsen, we packed up and drove to Bozeman, an hour from Big Sky and the 4th largest city in Montana. We could hardly believe the growth we saw in the city since we had been there 4 years earlier. Calvin spent the afternoon prayer walking the city until we were able to check into our Air BnB in Belgrade. From our third-floor apartment we overlooked a beautiful lake with the majestic Gallatin mountain range in the distance.
September 21-
Calvin made a full day of prayer walking on our final day in Montana by walking north to south and east to west in Bozeman. Although he was not able to connect with any local pastors, he felt satisfied that he had fulfilled his assignment for this leg of our journey.
September 22-
We happily returned home to our 2 cats in residence after 2 uneventful flights and a late arrival home that evening. We thanked God for his grace and protection throughout our 2-week trip. We had much catching up to do and jumped right back into life in PA.
Blessings,
Stephanie and Calvin
October Update
GREETINGS,
October kicked off our 6th and final month of our prayer walking assignment of 21 northern cities starting in Bradford, Pennsylvania and ending in downtown Seattle on Wednesday October 13th. Again, God filled this month with divine appointments with very impressive and passionate Christians as well memorable interactions with people we met on the street. Dozens more pictures and another 20 pages of journaling notes were added trying to capture all the amazing events and divine appointments we made.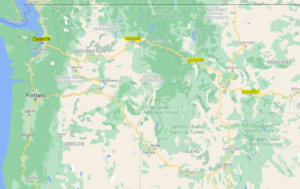 SOME HIGHLIGHTS IN OCTOBER
We took advantage of visiting and staying with several connections Rose and I have in the northwest during these next two weeks. We were graciously hosted by families at the beginning of our trip (outside of Bozeman, MT) and at the end of our trip (north end of Seattle) as well as a brief 4 hour visit with a couple in northern Idaho. However, it seemed that God had another purpose for these particular interactions. It was to acknowledge and honor these host couples for their many faithful years of service and sacrifice in advancing Gods kingdom by giving them a staff. This became apparent to Calvin, as it was already to me, that they each deserved this staff for their faithful walk with God through the years. This recognition is also for an impartation for each of them for what lies ahead in their unique journeys.
In Missoula, we went separate directions the one full day we had to prayer walk this city. Calvin walked miles around the city streets and engaged two local pastors while I headed east and went up the hill next to the U of Montana. During my hill climb, I had two separate and wonderful connections with young men, one a student at the U of M and another aspiring to step into a career in film. However, my main purpose in climbing this hill was to declare Psalm 24 over the eastern valley that comes into the Missoula location. Missoula was originally called "hells gate" by the early French trappers. This name resulted from seeing a large number of human bones in this eastern valley resulting from earlier native American conflicts.
Rose flew out and joined us in Seattle. Since she was born and raised in Seattle, she had a keen interest in being with us when we prayer walked the downtown area on our first day (Monday). We were also joined by a young woman very invested in interceding for Seattle. She had a dream two days before we arrived about prayer walking in Seattle which solidified our decision to have her join us for both Monday and Tuesday. After Calvin and I covered the downtown area on Wednesday, we went up to Capitol Hill and walked the location of the "Autonomous Zone" that was occupied by protesters for three weeks of June 2020.
We felt a lot of divine protection throughout this month but especially in Seattle. We know that the prayers of many covered us and allowed us to complete this with a strong sense of doing all we were meant to do. Thank you so much!
Blessings,
David
More Pieces to the Puzzle – December 2021 Update
GREETINGS,
This testimony by Lou Engel a few weeks ago (December 10th) regarding prayer walking assignments given to John Halversen was shared with me, and I keep thinking that I need to pass this along to those who were aware of and involved in our prayer walk this year. This is impressive in both the scope of the tasks given and the commitment of this man (and wife, who was very much a part of this) that span a few decades and encompass the entire world. I am struck by the interesting parallels to Calvin's prayer walking journey through the years…. i.e. four major walks in the US, prayer walking assignments that go back decades and especially how they both end up this year within a couple months of each other in the same city (Seattle). I recall what God showed me in Minneapolis last August when I found a puzzle piece toward the end of our stay there only to be confirmed by finding another puzzle piece the next morning. The image I saw was of the United States and what Calvin and I were doing represented just one puzzle piece of a massive puzzle God was putting together. Look at what else God is doing by reading this…..
David
Lou Engel – World Prayer Walk – December 10, 2021

A Radical Obedience to An Extreme Assignment
God sometimes leads individuals to do extraordinary things as spiritual signs and intercessory acts. Moses stretched his rod over the Red Sea, causing it to roll back; Elisha struck the Jordan River with Elijah's mantle, causing it to likewise roll back. And tomorrow, John Halversen completes his fourth walk across America! His wife, Sandy, shares some of John's amazing story:
"On December 11th in Seattle, Pastor John Halvorsen completes his 4th Prayer Walk across America,
He began prayer walking early in his Christian life because he found himself dozing off while praying in a cozy chair. Soon the Lord began challenging him to expand the areas he walked through, until he was walking across entire nations and continents as 'prophetic acts', proclaiming that 'GOD WANTS HIS WORLD BACK!'
"Prayer Walk America #1 was birthed in 1996, while we were missionaries in Ireland. The power of God came so strongly upon John while out for coffee, that the physical shaking he was experiencing sent him into the men's room where he cried out to God, 'Send me back to America!' Back in Minnesota, while walking and praying through the 'Mall of America', Genesis 13:17 became a literal word from the Lord for John: 'Arise, walk through the land, the length and breadth of it, for I will give it to you.' As with all unusual divine guidance, John submitted it to his trusted mentor, friends and family, received the green light, and to this day has not been told to stop!
"John's first walk began on the first day of the Jewish new year, Rosh Hashanah, September 21, 1998, with a strong prophetic unction to proclaim that a 'Season of Trouble' was coming to America. He walked from the Canadian border in Minnesota to the Gulf of Mexico, along US-61, the Great River Road, following the course of the Mississippi River. His message was broadcast through secular and Christian media all across America, 'Tumultuous times are coming, we must repent and pray as never before.' As the Mississippi River was first named 'Rio De Espiritu Santo', the 'River of the Holy Spirit', and was fiercely contended over during the American Civil War, the intense prayer battle accompanying that walk was over the 'Free flow of the Holy Spirit' through the Church.
The second American prayer walk was soon birthed. The Lord simply said, 'You know you aren't done.' John knew that a west to east route, the reverse of the routes of exploration, was God's plan, so on Easter Day of 1999, he began walking in Newport, Oregon, and finished in November at 'Rehoboth' Beach, Delaware. Although the Clinton era of 'Peace and Prosperity' was in full sway, John continued to proclaim the need for renewed prayer and repentance and that 'Tumultuous times' were coming. Also, the prayer focus was on the re-opening of past wells of revival as in Genesis 26:18-22, which ended in victory at the well of Rehoboth.
"'Tumultuous Times' came to America indeed, on September 11, 2001. We experienced the 9/11 attacks and America's 'Season of Trouble' had begun.
"While flying over Europe early in 2008 and gazing down at the Pyrenees Mountains, John knew he must walk again, this time the ancient 'Crusader' and 'Silk Road' routes, from Portugal to China. Organizing all the details for the two-year walk happened quickly and by November '08 we were on our way to Cabo da Roca, Portugal to begin the long prayer journey, which ended 6,000 miles later in Almaty, Kazakhstan, near the Chinese border. Many stories can be told of the challenges and spiritual warfare encountered on the trek through Portugal, Spain, France, Italy, Slovenia, Croatia, Bosnia, Serbia, Bulgaria, Turkey, Georgia, Azerbaijan, Kazakhstan, and then the train journey through China to Shanghai. John's prophetic sense was that the Lord of Glory is going to burst through the rusted, bolted gates of these post-Christian, Communist, and Muslim cultures, bringing an 'End of ancient hostility' to the Gospel, in unprecedented Revival!
"In 2015 the Lord told John to "take the 'Appeal to Heaven' flag to the North Pole and then get to the South Pole as soon as possible." He discovered that joining an expedition to each pole was the only way to get there, that the North Pole would require $35,000 and the South Pole a jaw-dropping $50,000! Miraculously, for each trip the money came in at the last minute, as is often God's way, through 'appealing to heaven,' not 'appealing to man'. God pays for what He orders!
"A Russian nuclear-powered icebreaker took a week to crunch through the polar ice to arrive at the North Pole in June 2016. Then in November, 2017 a Russian transport plane got him to Antarctica, and a small prop plane to the actual South Pole. In both cases, he unfurled the 'Appeal to Heaven' flag and proclaimed the Gospel, as a witness that the Good News has reached the extreme 'Ends of the Earth', and to appeal to heaven for global awakening.
"In early 2018 the Lord spoke, 'Are you willing to walk America again?'
"Why Lord? I've already done it twice!"
"Because America needs a third awakening!" came the answer. John knew this time he would walk a diagonal along Route 66 and the Lincoln Highway, from LA to NYC, beginning on Halloween 2018. Why? To reverse the curse in our nation. He sensed that although America deserves judgment, he was pulling a cord of mercy and that God would grant mercy if His people would enter into deep repentance and prayer.
"While visiting Israel after this third prophetic walk across the nation, a van drove past, emblazoned with the words, 'Johnny Walker, Keep on Walking.' It was the slogan the Lord had often used to let John know he had a new assignment. 'Do I walk Israel next?' he wondered. But it soon became clear that Miami to Seattle was what the Lord had in mind, another diagonal route that completed an X over the nation. So on February 5, 2021, this current walk began in Miami and will finish on December 11 [tomorrow] in Seattle. John has battled extreme spiritual warfare on this walk as he contends for awakening for America, and senses again that he is pulling a cord of mercy. But this time, he believes that at the walk's end, the cord will be plugged into a power outlet and God's awakening power will flow.
"John feels that all these prophetic walks are connected. The 'free flow of the Holy Spirit' through the church…the opening of past wells of revival…overcoming hostility to the Gospel…reversing the curse…the release of God's mercy and His power cord plugged in. John believes we are about to see the greatest outpouring of the Holy Spirit ever witnessed throughout the world and to the extreme ends of the earth!
"His next prayer walk? John is asking the Lord about Israel.
"GOD WANTS HIS WORLD BACK, and WE PROCLAIM HE WILL RECEIVE IT! IN JESUS MIGHTY NAME!!"
Pray with me:
Father, we thank You for servants like John and Sandy Halversen, people who are willing to lay their lives down as intercessors and warriors. You have many who unselfishly do so, some walking their neighborhoods, others driving across the country, still others faithful in their prayer closets and on the jobs they work. Thank You for this army You're raising up.
We pray for John and Sandy as they finish the walk tomorrow. But, as I know they would desire, our greatest prayer is an agreement with them that You will send revival to America and the world. Open past wells of revival, break curses off our land and off other nations. We know that in America 12 cities set records for homicides this year. We appeal to You for the greatest revival EVER, and one that touches the ends of the earth.
And as we shall continue to do, we ask for Your hovering presence over the Supreme Court and every Justice, to bring forth Your counsel and will in the recent abortion case. Help us reverse Roe, we pray, in Jesus' name. Amen.
Our decree:
We decree that the prayer army around the world is strong and growing, and that life will win over death.
You can find out more about John and Sandy Halvorsen and their walks across America ,here or at ,www.prayerwalkamerica.com.